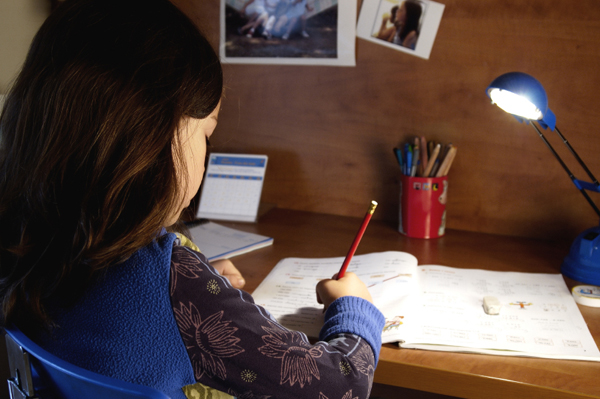 Photo Credit: Distance Learning Advice
Is your child back in school?
Bringing the calmness of your outdoor sanctuary inside the home is highly encouraged. Especially at this time when your kids could be weighed down with too much work loads in school and extracurricular activities.
Here are 5 tips that can help promote positive learning environment in your home:
Find a place with the least disturbance
Though every home is a sanctuary for any individual, distractions will always be present. One of most common household staples that can snatch a child's attention is the television especially when cartoons or animated flicks are on. When you have teens at home, the internet as well as the telephone can add as productivity busters. Younger siblings and unexpected guests can take the spotlight away from assignments and school projects.
In choosing a study-friendly corner for youngsters, you would want to choose a space that's away from common family areas to reduce noise as well as the number of people passing by.
Make sure it's comfortable
Having good ventilation and lighting schemes are very important in keeping kids focused on their studies. The slightest inconvenience can irritate children causing them to throw tantrums or lose interest in what they're doing. Choose a place with windows to allow natural lighting during daytime. Placing the study nook in this area can also help in breaking the feeling of isolation. Purchasing the right desk and chair is very important. Your kids should feel comfortable enough in this furniture and the room itself to make them stay there for long periods of time when needed.
Furnish it supplies and study materials
Leaving the study room or area every so often just to get supplies can ruin focus. Assembling supplies in one area can't only save time but it can also keep the one's working drive up. Make sure to organize papers, writing materials and books accordingly so that your kinds can find things easily. Doing so can also help you know which supplies are running low.
Create study rules
Rules that are followed habitually create strong habits. So make sure to utilize this well to reap the benefits in the future. Study area rules can range from what can or can't be brought inside the room. You may want to have a policy regarding bringing of food and other gadgets like game consoles and music players. Setting a certain time for study can be your child's first lesson on time management. Make sure to guide them accordingly when implementing this habit-forming step. Remember that rules will be of no use until someone follows them. Consulting your child on the rules is a great way to know their thoughts and ensure their cooperation.
Don't forget about the personal touch
Reading books and answering math problems the entire afternoon can be tasking for anyone in school. Show your love and concern to your child by making his or her stay in this room bearable. Add a couple of things that can make them feel at ease like family pictures, an extra seating area or paintings on the wall. It is best to consider the personality of your child to meet his or her design preferences.
Here at Formosa Covers, we take care of what's important to you. We know how much you value your child's education. And for your other priced investments, our wide selection of multi-purpose covers can surely provide utmost protection for your outdoor furniture, motorcycles and golf carts to name a few. Formosa Covers is the name you can trust.